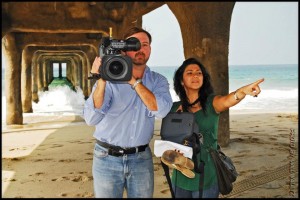 With over 25 years of experience as a cameraman/DP, I am proud to have shot projects for networks including PBS, ABC, MTV, VH1, FOX, CBS as well as a variety of international networks and the internet. I've been involved in the development and production of long running, emmy-award winning series, same-day turnaround news feeds and a wide range of industrial television projects.
I've covered breaking news, capturing video that only happens once, yet am equally comfortable creating carefully crafted scenes for major cosmetic company product rollouts. I'm at ease shooting in an operating room, on a bumpy van in Moldova or in the home of a patient learning to live with diabetes. Corporate clients include American Express, IBM, ATT, Citibank and Prudential Securities.
I take pride in putting people at ease–from a teen first-time newscaster, to a CEO. Field producers and directors will tell you I put them at ease, too. And editors will tell you I give them the angles and the footage they need to tell the story.